HVAC Marketing Consultant You Can Trust
HVAC Marketing Consultant: Elizabeth Ortlieb
Elizabeth Ortlieb is the HVAC marketing consultant you can trust.
Having years of experience building marketing programs for several mid-market HVACR & industrial manufacturing companies from the ground up, my deep expertise and passion for this industry enables me to help you and your team develop the right message at the right time in the right place.
No matter the shape and size of your HVAC company, whether it's a local one, a national one, or international one, I am well-versed in the marketing know-how to help you and your team achieve HVAC marketing success. 
I am proud to say that this includes both the B2B and B2C companies. From creating industry-leading lead generation campaigns to spearheading social media engagement; hosting record-setting webinars to managing booths at some of the industries largest trade shows (AHR Expo), such experiences have shaped me into being a well-rounded and versatile HVAC marketing consultant at the nexus between traditional and digital marketing methodologies. 
Together, we can help create you and your team an HVAC marketing strategy that best deploys the most effective messaging in the right channels at the right time.
Because, let's face it, HVAC marketing isn't as simple as it once was. There's more and more competition, not to mention, it's becoming increasingly difficult to ensure you are truly reaching and connecting with your target audience and customer base.
The game has changed. I am here to help as your HVAC marketing consultant.
Let me help you not only keep up with the marketing changes but also maximize your marketing impact. 
See below for a full list of the HVAC marketing services that we provide. 
B2B HVAC is increasingly complicated and complex, requiring well- planned and executed campaigns in multi-channels. Here is a brief overview of the HVAC marketing initiatives that my team can assist you with.
Top Channels for HVAC Marketing
In your campaigns and across your channels, you should focus on relevant content that speaks to your target audiences. You should have a particular focus on digital channels now, as consumer buying behavior has changed.
The prospects and customers you want to reach are spending more of their time online, conducting research and forming their own judgements before ever even speaking with your sales reps. This is a fact you will have to accept, or risk getting gaped by your competitors.
That's why you must ensure that you have the proper spend allocation and channel mix to accommodate, such as:
Email Marketing

Content Marketing

Search

Live events

PPC / Display

Retargeting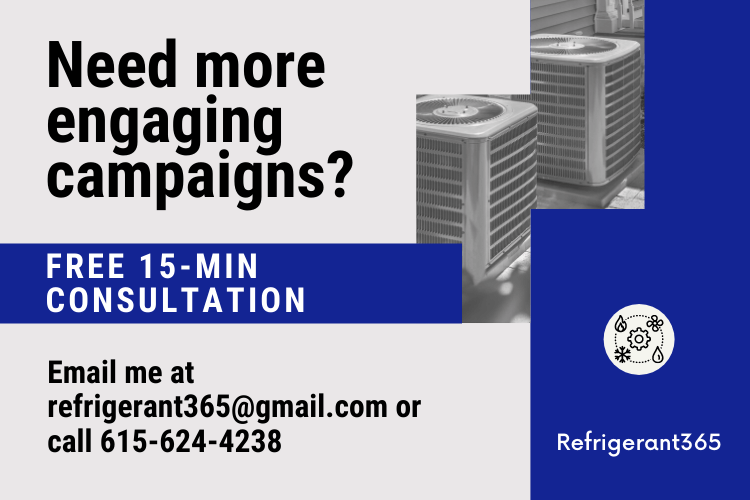 Learn More About My Career in the HVAC Industry
I often get questions from my readers or followers about who I am exactly and what I am doing, how it is that I found myself right front and center of the HVAC-R and refrigerant industry. 
When I get such questions, I usually respond by starting with something along the lines of this, "Well, it's complicated." 
That's because it is.
Responding to the c

ommon question of "What do you do, Elizabeth?"
You see, there isn't one definitive answer to the question of what it is that I do. Why? Because I do not want to say I am a marketer. Because let's face it: Marketing, particularly in the HVAC-R industry, has a bad rep.
So, the last thing I want to do is answer… marketing. Or, HVAC marketing specialist. I consider myself someone who has a deep expertise in HVAC-R and refrigerant compliance trends which has enabled me to perform marketing exceedingly well.
To put it another way, I fell into marketing, and marketing fell into me. It's the best of both worlds, really.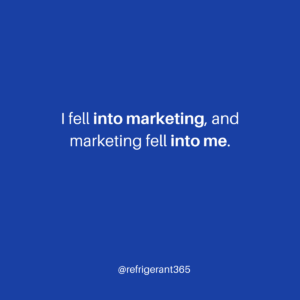 Nonetheless, that does not mean I want to categorize myself solely as a marketer. My past and current work encompasses more than just the usual marketing.
To respond to the question, "What do you do, Elizabeth?" with "Oh, marketing" would be a gross understatement. Worse, a false characterization, an oversimplification of my expertise
But, for lack of better words, I am an HVAC marketing consultant.
And, it's a funny story of how I got here.
How I became an HVAC marketing specialist and propelled a brand into the industry spotlight
You see, when I first started my career, I wouldn't have ever considered being a marketer, let alone an HVAC marketing specialist. The thought of marketing, and me specifically doing marketing work, made me, well, cringe.
Besides, I began as a policy person. I majored in Political Science at Vanderbilt. Worked on Capitol Hill for a bit. (Yuck! Story for another time) Me in Marketing? I would have laughed at the thought.
Then one day I found myself not only doing marketing, but doing it very well, and then managing it. I conceptualized and developed an innovative, robust, and original inbound marketing program from the ground up. 
Slowly but surely, I became really good at marketing, specifically at marketing in HVAC B2B. Attracting and converting prospects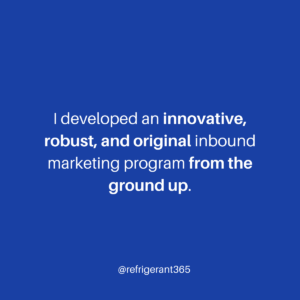 And thus an HVAC marketing consultant was born. It has led me to people and places and experiences that have enabled me to the learn the ins and outs of the HVAC B2B industry, and for that I am forever grateful. For instance, I have been featured in EM magazine, Retail and Restaurant Facility Business, ISHN, and Humans of HVAC.
Because I have the first-hand experience activating sales enablement, building a brand community, and creating a lead generation machine for HVAC brands from the ground up, I know the necessary strategies and tactics it takes to get your HVAC digital marketing to the level you want it to go.
I am the HVAC marketing consultant you and your team have been looking for.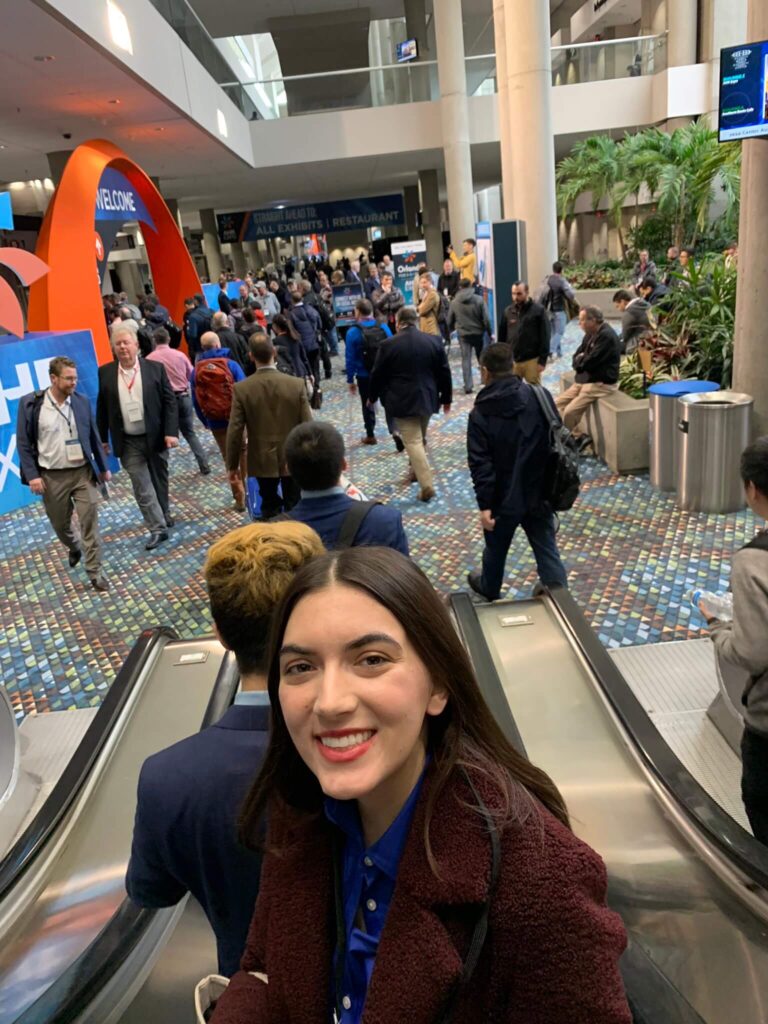 Because marketing is not as easy as you think anymore. In fact, it's getting more and more difficult. You need someone who understands this like me.
I can help you and your HVAC digital marketing team meet and exceed goals
Not only have I met and exceeded all goals while performing marketing work for organizations in the B2B HVAC industry but also… Consider this fact…
Present to me any marketing challenge your organization faces—for instance, content marketing awareness, search engine optimization, etc—and I will present to you a game plan that makes the most sense for you and your team. Content strategy? Done. Sales enablement? Done. Engaging live events? Done.
I am a master at building and attracting an audience that keeps coming back for more of your content.
Consider me, Elizabeth Ortlieb, your HVAC marketing consultant. I will help you accelerate your brand growth and make prospects engage with your brand for the longterm.
Let's see if there is a fit
Whether you would like me to coach your team, provide ongoing marketing support, or be a part of one of your online events, I would be happy to assist you and your team with your HVAC marketing efforts.
Here's a few HVAC industry events I have had the opportunity to attend and/or help organize over the past half-decade in this space:
AHR Expo

Record setting webinars on HVAC-R and refrigerant

Twitter LIVE events

… and much more

Possibly you and your team?
I am super passionate about HVAC digital marketing, and I will ensure that we work together to develop a process that incorporates the most effective messaging for the target audience you are trying to reach in this industry. That is my commitment to you as an HVAC marketing specialist.
Schedule a free consultation with this HVAC marketing consultant now
Let me be your HVAC marketing consultant. I will prove to that I am the HVAC marketing consultant you and your team have been looking for.
Schedule a free 30-minute consultation, or connect with me on LinkedIn. I'd love to chat, and see where you are with your current marketing program.
Thanks for reading!!
I'm Elizabeth Ortlieb, and I follow refrigerant across the globe 365 days a year.
That's #Refrigerant365.
Follow me across the web @Refrigerant365
Watch My Humans of HVAC Video