Looking for ideas on refrigeration hashtags to use? Start here. In fact, we've compiled a list of the top suggested refrigeration hashtags to use in your social media posts. Just in time for World Refrigeration Day 2021!
Refrigeration Hashtags for 2021
Before we delve into the details of these refrigeration hashtags, it's important to keep in mind that you should:
Have defined and detailed buyer personas for your targeted audience;
Know in which marketing channels you can find and engage with your target audience.
Knowing #1 and #2 enables you to make the most effective use of your hashtags. In fact, without these first steps, your use of hashtags could prove to be fruitless, if you don't know your buyer personas; what messages most resonate with them; and where.
Thus, your buyer personas will not necessarily use the same hashtags. In the case of the refrigeration sector, a refrigeration technician working at a supermarket will not be using the same lingo and hashtags as a facility manager at a cold storage warehouse.
Keeping this in mind, I will be sharing with some of the top refrigeration hashtags that can you can use in your social media posts. Hope you find these useful.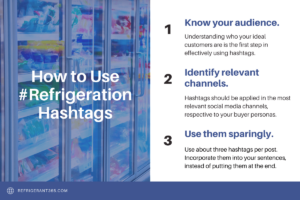 Refrigeration Hashtags
Refrigeration
#Refrigeration, #RefIndustry, #Cooling, #HFCs, #IndustrialRefrigeration, #TemperatureControlled, #RefrigeratedSpace, #Cooler, #Sustainability, #EnergyEfficiency
Refrigeration Tech
#RefrigerationTech, #TechLife,#HVACtechnician, #HVAClife, #HVACtech, #Technicians, #Service, #Contractor
#SkilledTrades, #BlueCollar, #BlueCollarLife

#HVACservice, #HVAChacks, #HVACinstall, #Install, #Installation, #HVACrepair, #HVACquality, #HVACmaintenance, #HVAC problems, #HVACwork, #CommercialHVAC, #Home, #Fridge

#HVACtools, #Tools
Cold Storage
#ColdStorage, #ColdRooms, #Freezers, #RefrigeratedFoods, #FrozenFoods, #FoodService
Supermarket and Convenience Stores
#Supermarkets, #Grocery, #RetailNews, #Food2Go, #OpenDisplay, #Refrigerated, #Cabinets, #ConvenienceStores, #Groceries, #Restaurants
Cold Chain
#ColdChain, #ChilledDistribution
Refrigerated Products
#RefrigeratedFoods, #Chilled, #FrozenFoods, #FoodService, #Food, #FoodManufacturing, #FoodandDrink, #Dairy, #Breweries, #Temperature,
These hashtags can be a point-of-reference if you're looking for new ones to incorporate into your posts.
Remember, it's not wise to use the same hashtags all the time.
Not only can this lead to spamming the feed for that hashtag, you won't be widening your reach with new hashtags that may be relevant for you but you haven't been using prior.
Thanks for reading the Refrigerant365 blog. If you have any questions or comments, please leave a comment below. (This article on Refrigeration Hashtags originally appeared on the Alpyne Strategy blog here.)